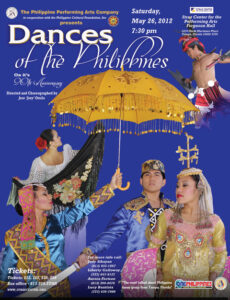 It's been quite a few years, but we've finally gotten around to updating our website in preparation for our gala show entitled "Dances of the Philippines" on Saturday, May 26, 2012 at 7:30PM at the Fergusson Hall of the Straz Center for the Performing Arts in downtown Tampa.
This performance will highlight major ethnic and folk dances from the Philippines as directed and choreographed by the company's artistic director, Joey Omila.
PPAC is one of the major cultural arms of the Philippine Cultural Foundation, Inc. (PCFI) at the Bayanihan Arts and Events Center in Tampa. The organization is focused on the performance, teaching and appreciation of Philippine dances to the Filipino-American community in the Tampa Bay Area and Florida as a whole. It has traveled to and performed at various cities in the US and Canada and boasts several awards like the International World Folk Dance Competition at the Azalea International Folk Fair in Valdosta, Georgia.
Tickets to "Dances of the Philippines" range from $15 – $50. To buy, contact the Straz Center Box Office at (813) 229-STAR or visit www.strazcenter.org . The Straz is located at 1010 N Macinnes Pl  Tampa, FL 33602.
To avoid box office fees, contact Judy Sibayan (813) 833-1867, Liberty Galloway (727) 647-8127, Aurora Fortson (813) 390-8476 or Lucy Bautista (727) 639-7980 for tickets.